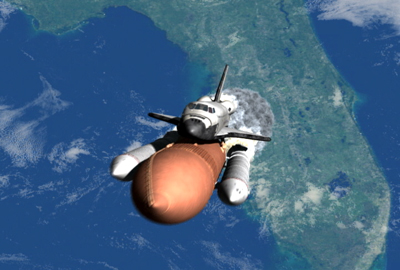 3D-Animation
In addition to multimedia graphics Rumford Productions also provides 3D Animations for product demonstrations, forensic reconstruction and character animation. Using a wide range of software tools, custom 3D animation can be developed to suit individual or company needs. The picture to the right is a frame from our corporate demo video and shows the space shuttle taking off from a vantage point not normally seen in real life.
3D animation can take us places our imagination goes!

Click here to see how we used this 3D animation in our corporate demo video. 32.5MB (Requires a high speed connection. Right click the link and select "save target as" to download the video to your computer for local playing)
Contact us today to learn how 3D animation can help your company communicate effectively. We will put our many years of experience to work for you.